We had a wonderful morning with the students from Kiwitea School.This was our first session for 2021 and our first ever session at Kiwitea School!!! The students were all new to the Plant to Plate Aotearoa programme and were very excited to take part.
In the garden we had to do lots of digging to get out the roots from the weeds that had been growing there, (Thank you to the parents who had a big clean up of the beds before we came!) then we added plant food to the soil (Lime – Icing sugar, Blood and Bone – Cinnamon, General Fertiliser – Sprinkles and sheep poo – Chocolate chips) and dug it in well. Then it was time to plant! Cabbages, Spring Onions, Radish, Broccoli and Silverbeet to name a few.
In the kitchen there were some impressive cooking skills being used to make a wonderful lunch. Lots of chopping, grating, mixing and taste testing before the recipes were put in the ovens to cook. The smell coming out of the main doors was AMAZING! Then of course the clean up, I was so happy to see everybody helping out to make the big job a little bit easier – well done guys.
Then it was time to eat. We talked about table manners and how we should all give some new foods as go – because you never know, you might just find a new favourite! Lunch was delicious and was demolished pretty quickly, and all the leftovers were snapped up too. Well done everyone 🙂
I hope everyone had a fun morning with the P2P team. Don't forget to keep weeding and watering your vegetable garden. I look forward to being able to harvest some of the produce when we come back in March.
Until then, happy gardening everyone! Jacinda
GARDENING ACTIVITIES
This time of the year birds like to eat our fruit and vegetables that are ready to harvest. This is a simple and fun way to deter them.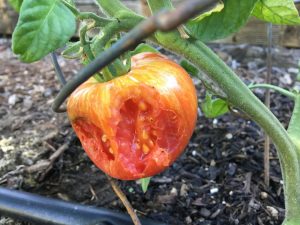 GARDENING TIPS
JOBS FOR THE SUMMER GARDEN.
Keep weeding and watering. Water in the early morning or in the evening to help stop the water evaporating before it has sunk into the soil properly. Keep harvesting all your crops daily – especially things like zucchini which can go from normal size to elephant size in just a couple of days. Starting planning what you are going to grow over the winter months and start of seeds.