Our first sessions at Colyton School EVER!!! Whoop Whoop 🙂
First we had Mr Smith's class of year 7 & 8 students, then Mrs Beard's class of year 5 & 6 students. The School garden beds were full of spuds that they are growing for a fundraiser, so I put on my thinking cap to come up with some other ideas. Over the 2 sessions we planted salad buckets, made a hungry bin worm farm, potted up seeds in yoghurt containers, drilled holes with the power drill, dug around in the compost looking for worm, planted pumpkins in the compost bins and had a wonderful time outside in the fresh air. I hope everything is still growing well and that the seedlings get planted out when they are big enough.
It was wonderful to see everyone working together in the kitchen to produce a wonderful meal for each other and our volunteers. The smells wafting out the doors were mouth watering and everyone was excited to share the kai they cooked during our shared lunch. There were lots of options for favourite recipes on the day… mine was the Apple and Zucchini muffins – I love the cinnamon in them! Yum!
Thank you Colyton School for having us, we hope you enjoyed your time with Plant to Plate as much as we enjoyed it. Also thank you for sending us some beautiful thank you letters – receiving those really made my day! We all look forward to coming back to Colyton School in the future.
Until then, happy gardening everyone! Jacinda
GARDENING TIP OF THE DAY…
Jobs for the Summer.
Keep weeding and watering. Water in the early morning or in the evening to help stop the water evaporating before it has sunk into the soil properly. Keep harvesting all your crops daily – especially things like zucchini which can go from normal size to elephant size in just a couple of days. Starting planning what you are going to grow over the winter months and start of seeds.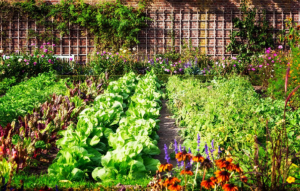 GARDEN ACTIVITY OF THE DAY…
This time of the year bird like to eat our fruit and vegetables that are ready to harvest. This is a simple and fun way to deter them.