Session 2, term 3 and we spent the morning at St Joseph's School in friendly Feilding. Room 5 were super excited to participate in the programme and we once aging had a large group of wonderful volunteers to help out.
Some of the class had been lucky enough to have a P2P session with us last year and were very keen to get started. I was happy to see that the vegetable gardens have been used and taken care of since our last visit. I get excited when I find produce ready for us to use, Bok Choy, Spring Onions, Herbs and Carrots will be used over the 3 sessions we have with St Jo's. We planted up 2 of the garden beds, but first we dug out some of the strawberry plants which we replanted in the fruit tree garden. It's pretty cold in August and plants don't want to grow so fast, but we put in beetroot, more spring onions, lettuce, rainbow silverbeet and herbs. With any luck (and good care from the students in room 5) we will be able to harvest some of these and use in our cooking during our next session at St Jo's!
The cooking team had everything under control when I followed my nose into the hall (the smell was amazing!). I was very impressed to see so many confident cooks who were using the cutting and washing techniques I shared with them at the beginning of the session. (No fingers in the fritters!) It's awesome to see everyone working together to produce such a yummy lunch – Room 5 even cleaned up and set beautiful tables without complaint. Ka pai team 🙂
Room 5 I hope you enjoyed your morning at much as I did and I hope you have shared your awesome cooking and gardening skills with your whanau. if you want to try one of the recipes you made just click on the links on the side.
I look forward to seeing you all again when we come back. until them, happy gardening everyone. Jacinda.
GARDENING TIP OF THE DAY…
It's time to get ready for summer spuds!
Potatoes are an easy vegetable for beginners and they are a fantastic first crop in new soil as the roots and tubers break it up and make it easier to dig in the future. July/August is a good time to start sprouting your potatoes ready for planting in September. It's a great activity for kids to do!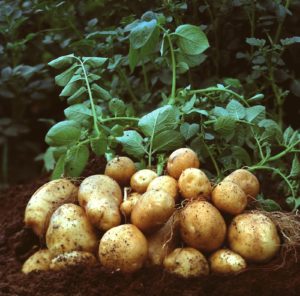 GARDEN ACTIVITY OF THE DAY…
This time of the year bird like to eat our fruit and vegetables that are ready to harvest. This is a simple and fun way to deter them.