Session 3 of Term 1 and we head to Riverdale School in Palmerston North. Riverdale does an amazing job keeping their school beautiful and has amazing gardens and native/nature areas. They also are very lucky to have teacher who is an enthusiastic garden and runs a lunchtime group called Enviro Explorers – the vegetable gardens are kept in tip-top shape and the produce is shared amongst those who help out in the gardens. I think that is super cool!!!
We had a big group of 28 keen kids for the morning and we put them to work in both the vegetable gardens and in the kitchen. It was great to have teacher support from Mr Carter as well as some parent help alongside our team of volunteers. We have  had a few new volunteers join us over the past 3 weeks which is wonderful. I love seeing the community helping to teach our tamariki such important life skills.
We weeded and fed a big garden beds before planting them up with vegetable seedlings from our friends at Awapuni Nursery. Awapuni Nursery have supported plant to plate for many years with free seedling bundles – Thanks guys! Before we planted anything we made sure that there was plenty of food in the soil so that the plants can grow big and strong. I wonder if the students remember what all the "ingredients" were? Cocoa, icing sugar, sprinkles, cinnamon and chocolate chips – sound yummy??? After carefully planting the seedling we made sure everything got a nice big drink because it has been so hot and dry lately.
As always the kitchen area was a hive of activity and the smells wafting out were delicious! The favourite recipe from the last few weeks is the Cauliflower Fried Rice – I reckon you should try this one at home kids and see if you family can guess what the rice really is! All our recipes are plant based and have been tried and tested by many kids – they are easy, cheap and yummy.
I hope everyone remembers to water the vegetable garden lots during this hot weather – the plants get very thirst in the heat, just like we do. I look forward to coming back to Riverdale School again next week.
Until then, happy gardening everyone! Jacinda
GARDENING TIP OF THE DAY…
Jobs for the Summer.
Keep weeding and watering. Water in the early morning or in the evening to help stop the water evaporating before it has sunk into the soil properly. Keep harvesting all your crops daily – especially things like zucchini which can go from normal size to elephant size in just a couple of days. Starting planning what you are going to grow over the winter months and start of seeds.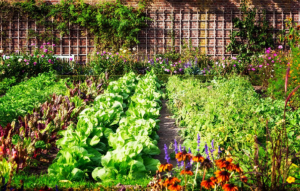 GARDEN ACTIVITY OF THE DAY…
This time of the year bird like to eat our fruit and vegetables that are ready to harvest. This is a simple and fun way to deter them.