We had a wonderful time with our friends in Room 5 at Clifton School, and it was fun to find everyone in their PJs!
 It's so lovely to be back at Clifton, the gardens are looking fantastic, it makes me so happy to see them being well used throughout the year. There was already quite a bit growing in them, but we managed to squeeze in more, including a bag of seed potatoes! Won't it to be lovely to have new potatoes to eat at the end of the year.
Our cooking team were so impressed that they were able to just stand back and let you cook! They were there to support you but it seemed as though you didn't need much help. It was great to see you all working together to get the job done, respect and cooperation is always the key when you are working in a group. The smells wafting out of the room were just delicious and I saw lots of other students poking theirs heads in the door to see what was going on. I really enjoyed sharing the meal with you, you all sat nicely and I could hear great conversations happening all around the table. At the end of our meal I checked to see what the favourite recipe was. I think it was a tie between all 6 of them and I don't think we have ever had a class who ate so well. Mind you, with such competent chefs doing the cooking I not surprised.
We had a neat time sharing some of our gardening knowledge with you and once more you all worked so well together digging over the soil and adding the plant food (Compost = Cocoa, Lime = Icing sugar, fertiliser = Sprinkles, Sheep poo = Chocolate chips!) We planted spring onions, leeks, cabbage,  spinach and coriander and made sure we watered everything in very well because the soil was quite dry. I hope you have been watering it since, the seedlings will really struggle to grow if they are thirsty, just like us!
Room 5, it was an absolute pleasure to spend the morning with you and I hope you enjoyed your time with Plant to Plate. Remember to give one of the recipes we made a go at home… think how impressed your Whanau would be if you dished them up 'pasta with tomato cream sauce' for dinner! Look out for me when we are back at school on Wednesday. Until then, happy gardening everyone. Cindy
GARDENING TIP OF THE DAY…
Potatoes are an easy vegetable for beginners and they are a fantastic first crop in new soil as the roots and tubers break it up and make it easier to dig in the future. July/August is a good time to start sprouting your potatoes ready for planting in September. It's a great activity for kids to do!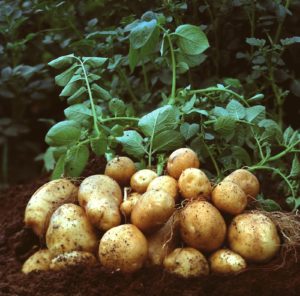 GARDEN ACTIVITY OF THE DAY…
You can make your own pizza dough using this recipe!